Time takes it's Toll
Many years ago in 1995, I scored my first gig as a t-shirt designer. A company out of New Orleans that still exists today (although under new ownership) called Gear Ink was looking for some artwork to compliment their existing collection of awesome Blues and Jazz shirts that were predominantly photographic.  In addition to submitting some actual musicians like Otis Spann and Lightnin' Hopkins, I also threw them some other designs.Surprisingly, they picked them all up.
The non-blues shirts were pretty strange stuff based on my very twisted sense of humor back then. I seriously was dumbfounded that they picked them up. I named the line Black Cat Bone Designs and that logo was emblazoned on each shirt's sleeve. If you have one of these, they are rare indeed. Let's see…there was one that had a guy with a thumb for a head , shirtless, stumbling around a bunch of question marks  that read "Huh?", there was another with a series of panels of screaming people, the last panel picturing some guy dropping dead and another with a naked man holding a towel and running, screaming "We're All Naked!!" Hold on….I think I have a scan of the catalog sheet…Yes! Here it is:
I still can't believe they bought these designs. I wonder how many sold. The owner back then was a British guy who was obviously ready to take a gamble. Funny. He sold the business not long after and these were discontinued.
The Blues themed shirts, however stayed around for a while, you can actually still purchase some of the designs to this day.Here's the initial offering of the Blues shirts:
I was going through my dresser not long ago and noticed that the shirts I still owned from back in the day were looking rather ratty so I figured "What the hell?" and wrote to the current owners to see if I could get an updated set of shirts. This they graciously sent me.
Unfortunately, as the post is titled, time does take it's toll. I don't think a new screen has been burned from the original films in quite some time and it looks like the inks are being rather arbitrarily chosen these days. I've taken the two "Bad Bass Blues" shirts and shot them together. The one on the left is from 1995 and the right, from 2010. Yeesh!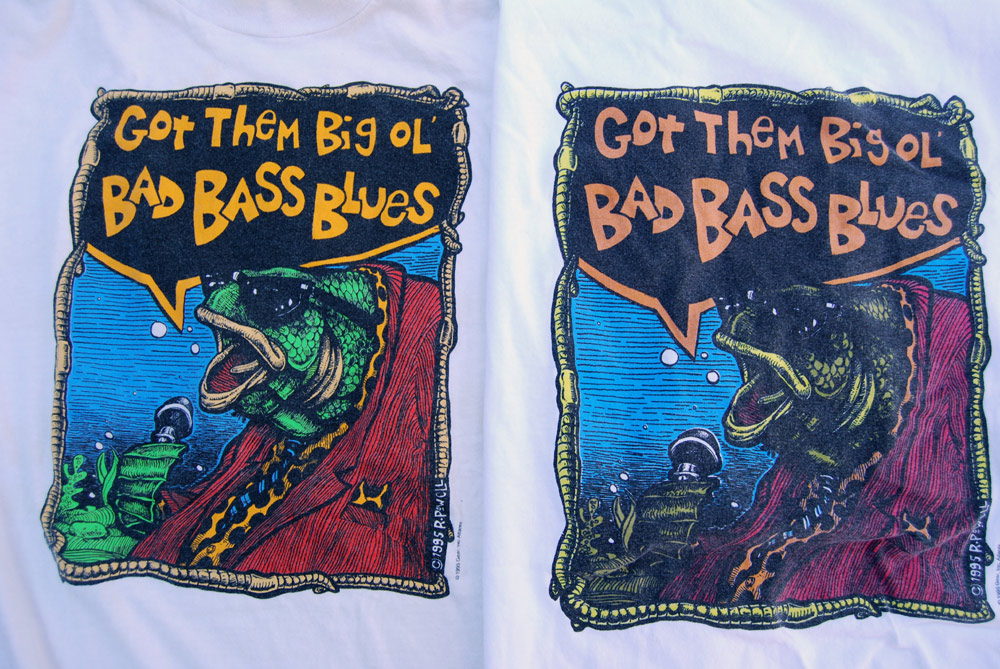 Pretty sad. It's lost all the contrast, the blacks have bled all over the place and the bright colors have been muddied quite a bit. I think I'll send this photo to Gear Ink and hopefully, they'll make some changes. After all, even though I don't make any money from them anymore, they've still got my name on them!!
Funny, you can see some of the original artwork for these things in this post