Back in the saddle…sorta
So, dealing with this herniated disk now for about 3 months has really screwed up my life. It can be completely debilitating and my desk has become something of a torture chamber BUT…Frankie got me a new chair and I've got some powerful drugs and here I am! I've been mostly drawing upstairs in a position that I've twisted into to keep away the weasels that gnaw on my back and I've gotten some good drawings accomplished. Let's take a look at one, a new design for my "Fish On" series (t-shirts and prints). I've already finished three of these, all crazy fish, now I'm going to do three lures. Here's the initial sketch, the raw scan followed by a shot after pumping up the contrast.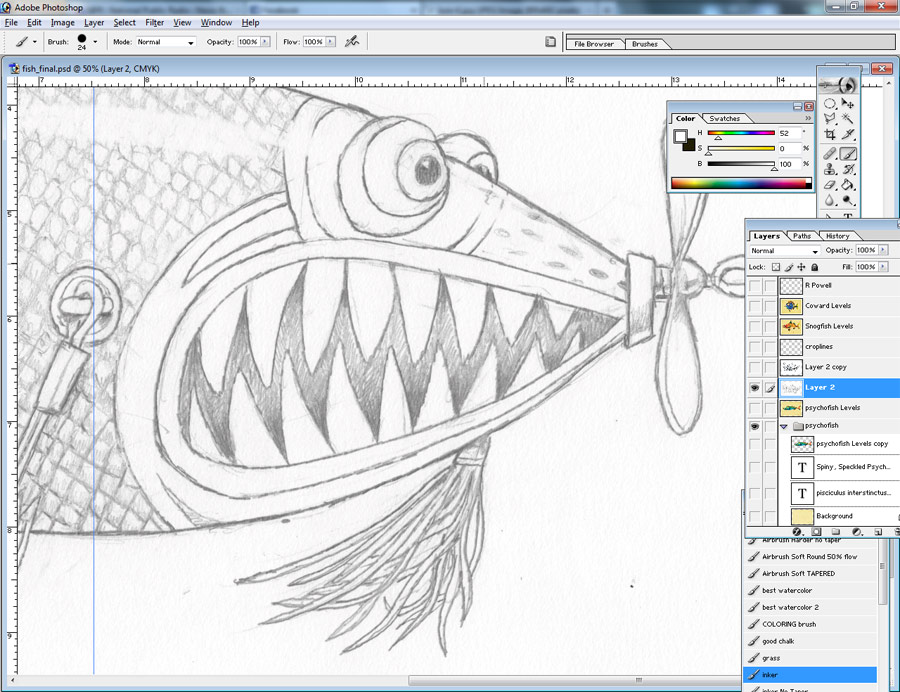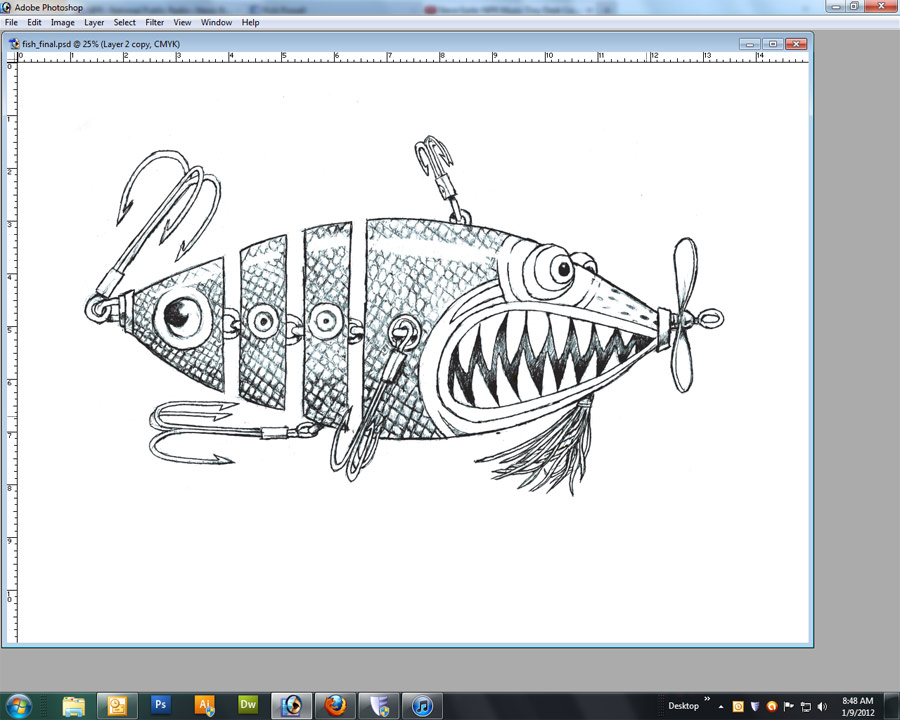 I try to draw the sketch as tight as I possibly can and completely avoid the inking by messing with it in Photoshop. I got forced into this technique by my art director at MAD and also by the folks at Crazy Shirts. What happened was this: I sent in my initial rough and after approval, I cleaned it up and inked it only to have the art director write back "What Happened???" They really liked the look of the up-contrasted pencil rather than the squeaky-clean inked version.
This actually has its advantages and disadvantages.  I save time inking but I spend a lot of time tweaking the image in Photoshop to get just the right amount of "roughness" to the image. But…get this:  often, the initial idea I send to Crazy Shirts is about 2 inches wide and just quickly sketched, REALLY rough. The funny thing is, often they'll want it as is. Don't change a line!  Getting paid a grand for a 2 inch sketch is a little mind-blowing. I wish all my work was like that! Unfortunately that happens about twice a year.
When art directing myself, I like the work to stay rough but not really rough. I can achieve a sort of rough inked look by tweaking with the contrast and using the pen tool in Photoshop.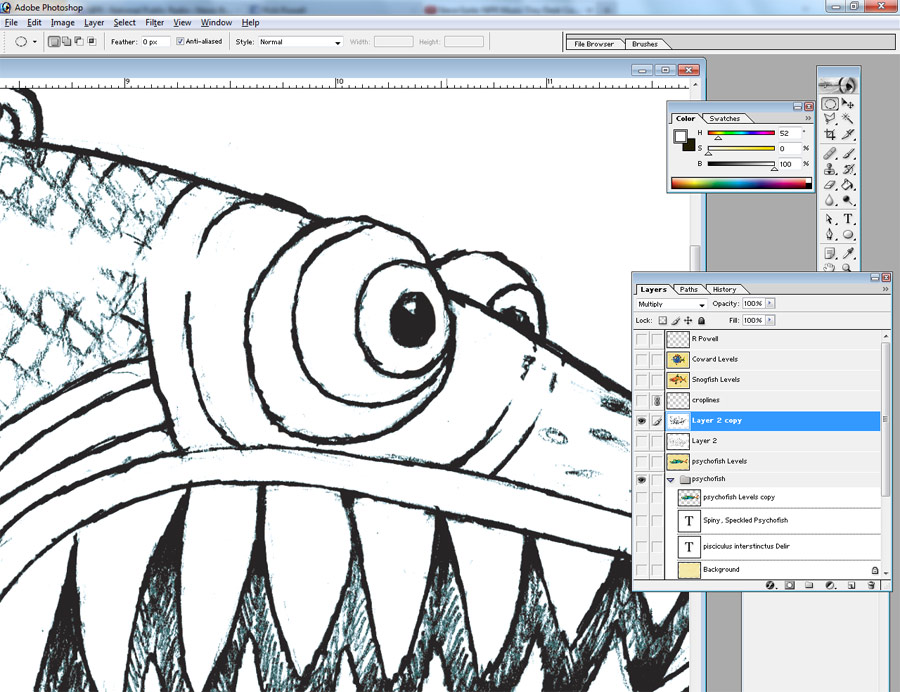 This is the amount of zoom I usually use to clean the drawing up. I simply have my black and white chosen on the pen tool (in the upper right) and by pressing the spacebar to switch to the hand tool, I travel around the artwork  using white to clean and black to add. I try to acheive just the right amount of sloppiness o make it fun to look at. I'll even add what looks like dripped ink here and there.
Here's a look at the art before and after :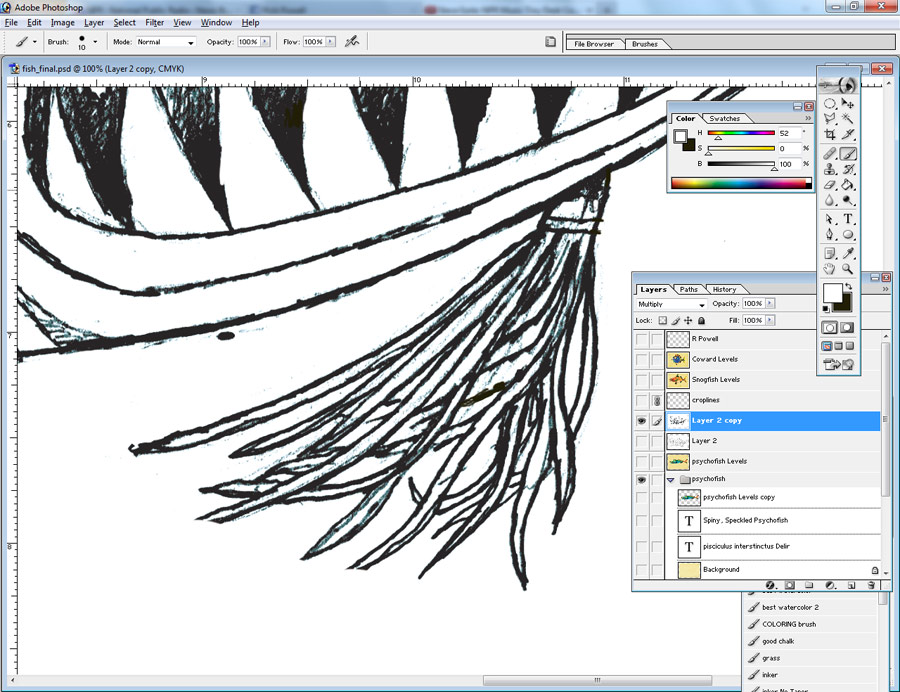 Not too many changes.  After I clean it up, it's time to add color. I'll write about that in the next post!