Involuntary Plagiarism
So, I spent yesterday morning drawing a cartoon I can't use.
Sometimes, you realize just how deep-seated your influences as an artist. Often, you have to fight them back and draw yourself back to the crossroads where your style and the influences meet …a place that took years to find! Stylistically, an artistic influence can be very apparent without any  worry of "copying" for instance, you can see George Herriman's influence on many cartoonists. Look at the pen work on Richard Thompson's excellent strip "Cul De Sac" and you can see a little Herriman in there. Thank God for that. It's great to see some of the wonderful technical skills of great cartooning being passed down.
As a kid, I worshiped Gahan Wilson's cartoons.
Like Bob Dylan say's "I was a Woody Guthrie Jukebox". All of my cartoons were directly inspired by Gahan's macabre sense of humor, line work and copious cross-hatching. As time marched on, I drew from other influences as well stylistically. R. Crumb, Kliban and others. Eventually I ended up with my own style. I'm not yet thrilled with what I come up with and still work on technique to achieve a better finished product but I'm having fun doing that at this point, still learning. I'm just happy that I finally feel at a point where I'm not embarrassed to show my work! There are so many great cartoonists out there.
All of this style stuff is well and good. But cartooning is also about comedy and you know how comedians feel about others ripping off their gags. I heard Bob Hope had a vault full of jokes. This is where I slipped up yesterday. I got in a panic trying to come up with a gag for Dixie Drive and started riffing on pigs (a popular subject in the South!) and barbecue. If you're not from the South, you may not know that down here, Barbecue is a specific dish, not a method of cooking. It's pulled pork basically. Good stuff too. Anyway, I initially had drawn a huge ghost-pig hovering over a barbecue joint but found it just a little too esoteric. Nobody was gonna "get" it, so I moved the ghost pig inside and had it hovering over the terrified chefs.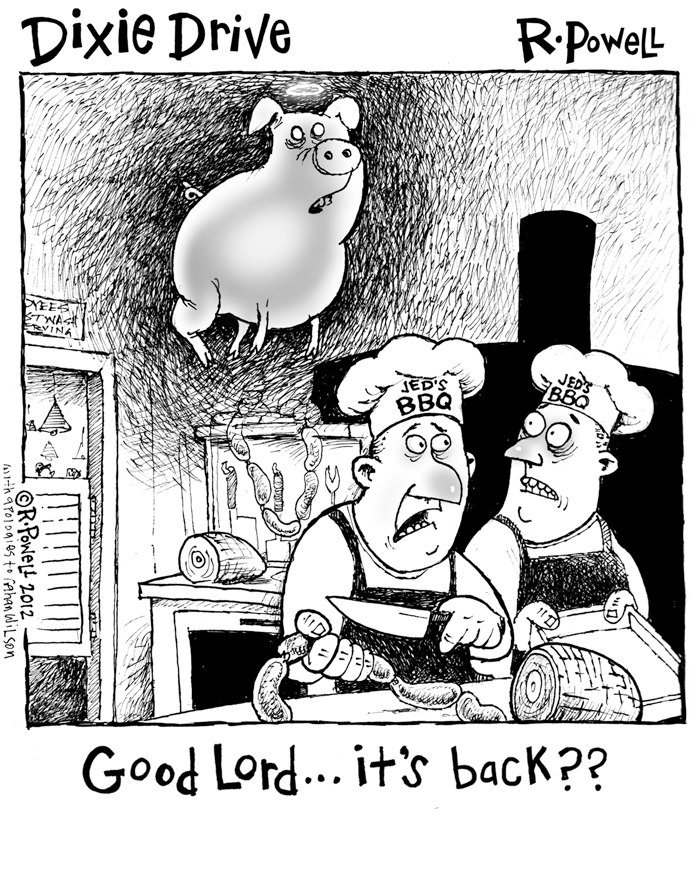 I toiled away at the library adding all this cross-haching, trying to get a good "ghostly" look to the pig. Showing it to my pal, Warren Dixon who has a great sense of humor and to Phil Shore, who knows a lot about cartoons. Everything was working out, a suggestion to add a halo was given (some of the girls there didn't get the "ghost" thing still) and I finished it up.
But I got to thinking on the way home: it all seemed very familiar and the more I thought of it, the more I was sure that Gahan Wilson had done a very similar cartoon that was in a collection I had as a kid. I've looked and looked for the book but can't seem to find it. I'm guessing Bailey has it away at school (yes!). Anyway, I'm sure enough that I unconsciously ripped Gahan off. Enough that I picked a different cartoon for this week! If I ever find the Wilson cartoon, I'll add it to this post.
In the meantime, here's a sample of what I used to read of Gahan's in the National Lampoon. The series "Nuts" is one of my favorite cartoons of all time. They're selling a collection of it at Amazon. Pick one up, you'll be glad you did!