Your Parents Are MAD!
My latest illustration for MAD#527 has hit the stands at last so I guess I can share it with you here! Written by Matt Lassen, the gag is all the things parents yell their kids…unabridged. It's funny, this isn't the first MAD gig I've done that involves screaming parents (see this post). I guess I'm the parental grief go-to guy.
This was a pretty straightforward gig. Associate Art Director. Ryan Flanders sent me an e-mail:
 This is a sort-of cousin to the piece you did 8 years (!) ago, "Your Mother is Not…"
On this one, we want a mom and dad to be looking down at a kid, reprimanding him.
I'm hoping for a finish by the middle of next week is possible.
He also attached a blank template for the illustration. Sometimes Sam Viviano or Ryan will include a very rough sketch to help me get the idea but this one only had the text bubbles. I liked the gags: funny and true. Thanks Matt!   (Sorry! You'll have to check out the magazine, folks!) The deadline was good, easy to squeeze it in among the other jobs I'm currently working on to make my paltry living.
So, let's look at the art!My initial rough pictured the family in my mind as African-Americans. The kid faced us and was ignoring the parents, looking at his cell phone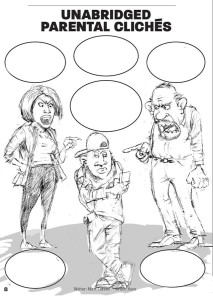 Ryan came back with the idea to simply show the back of the kid's head and to make the parents more animated. The Fundalini pages already had a few gags with African-Americans in them for this issue so the decision was made to go with angry white folks. Sounds weird but it'd probably be weirder if the gags were all about non-whites. I made them Irish-German Methodists with an Asian great grandfather who (as family legend goes) worked on the trans-atlantic railroad while they're great-grandmother was a young dynamite girl. Romance ensued.
Here's the revision: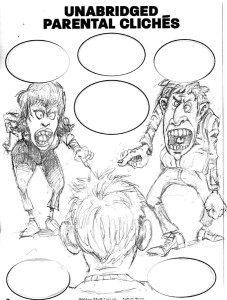 See? Okay, this time Ryan felt that the kid was too old. Ryan is a good editor, he has great comedic instincts. I can't remember ever arguing a point with him. Here's the Revision: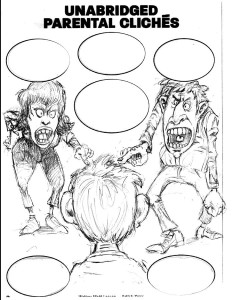 Better. Also, I made the kid a little Alfred-ish!  Approved!Now on to the finish: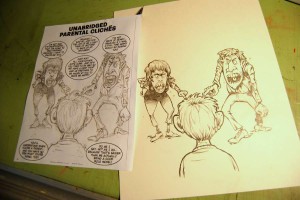 I've been obsessed with AntonEmdin's work lately. He's an Australian cartoonist who often has work in MAD (a great spread on wrestling in this issue). Anton has a wicked inking style using a brush that I admire greatly so, just to be safe…I worked on this one purely in pencil. It's funny, I'm so easily influenced I'd probably subconsciously try to ape his style a bit. Sad but true.  I enjoy working in pencil though and it adds some life to the lines. I simply pump the contrast up in Photoshop, the drawback is that you have to work very cleanly! Cleanly…that's a word, right?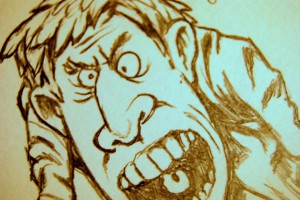 And…if you read this blog often enough, you'll know the drill: Put it on a multiply layer in Photoshop and color below! Voila! Adios Amigos!!