Adding Some Torque
There were guys in 8th grade that could draw the coolest cars, choppers, dragsters…you name it. I envied them as I drew my little people with big noses. Being able to draw stuff like that gave you some bus-cred. In addition, I should have concentrated on drawing women more at this stage in my life. I still have a hard time drawing babes. Being able to draw babes is very helpful in this business.
Anyhow, A fellow local artist contacted me recently to commission a portrait of her husband's Hot Rod. Some guys get all the luck, I guess. So, wanting to eventually own a hot rod myself, I accepted.
The art direction consisted of this: Make it cooler than it actually looks and make sure it has Moon Eyes and Mr. Horsepower on it. Add his racing numbers if you feel it'll look cool.
Who is Mr. Horsepower, you ask? Moon Eyes? If you were a child in the 60s as I was you probably got Car-Toons magazine (check some examples out here). It was full of gags about hot rods etc. In the back were adds for companies like Hurst Shifters, Moon Racing Wheels and Clay Smith Cams(Mr. Horsepower), you know, stuff to soup your car up.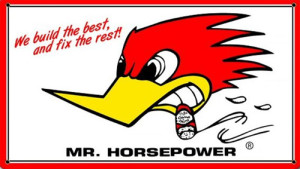 They all had cool stickers and we wanted them, so we'd write a letter to the companies…"Dear Sirs, Please send me a Moon Eyes sticker. I think Moon Racing Wheels are the coolest wheels, etc" Even though we were 7 years old and had no idea what an actual Moon Wheel looked like! They'd send the stickers though. I can still smell the ink/glue/plastic scent of those bad-ass stickers. I stuck them on my Schwinn Stingray.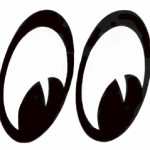 I wish I still had some of those magazines, I really liked some of the drawings. I think Ron Cobb may have contributed to some.
So…back to my hot-rod. Here's the photo she sent. It's a primer-black street-rod with nothing too fancy on it. It's got the hood off in this shot, which is good.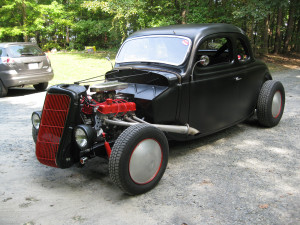 I planned to give it a massive engine and jack the rear wheels up. Maybe distort the perspective. I quoted her for a black and white pen and ink at about 9×12 so I went to work. I'm sorry I didn't photograph any of the steps, I was under the gun with other deadlines and just buried myself in the drawing. It ended up being a lot of fun and, although it's not the best Hot-Rod Drawing I've seen out there, it's pretty cool.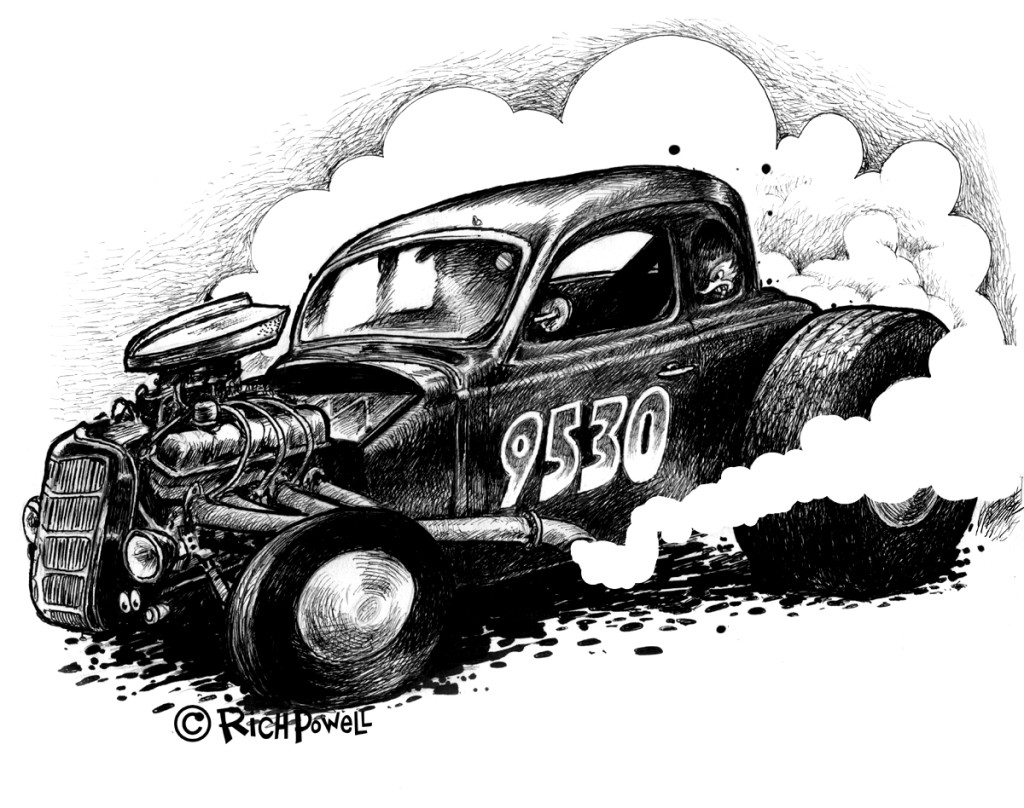 This is a scan. A nice pen and ink looks so much better in person, there are subtleties to the blacks and it has a softer feel. Debbie was happy, so I'm happy!
Adios!