Blues So Bad: Penciling
Ask Sam Viviano and he'll tell you I'm a one-trick-pony. All I draw are bluesmen. Well, he's partly right, there's a guitar playing blues character that I love to draw and I've done finished drawings of him maybe 4 times now, each a little different. (There's one hanging in Sam's office at MAD). So when David Paccia of the wonderful site David Wasting Paper asked if he could commission one this morning, I jumped right on it. Nothing gets you back into the swing of things after a vacation than drawing something really fun!
Also: I saw my friend Maria Scrivan messing around with a timelapse thing on facebook, I'd done a similar on in an earlier post but her's looked quicker and better so I thought I might try to record the whole thing. Unfortunately, my iPad couldn't hack it and filled up just after the Pencil stage so….now I have a video of me sketching the initial drawing stage for you!
I had inking and a wash to do for this drawing but couldn't video it…so I took photos. Here's the Bluesman!
The Initial Ink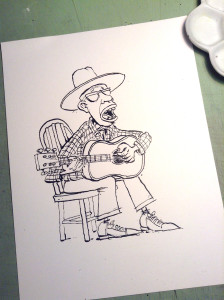 Beginning the Wash (Taped to a board to prevent paper warping)