Home Invasion
If you're a client of mine and you're wondering where the heck I've disappeared to, let me apologize. After returning from Washington it was time to allow UNC-TV (North Carolina Public TV) into the house for a shoot to accompany an upcoming story I illustrated for them. Along with a bunch of excellent shows that UNCTV broadcasts, Our State is a magazine-format show about everything NC. They describe it better than I can:
"Inspired by the pages of Our State magazine, UNC-TV's half-hour monthly series, Our State, takes you down-home in North Carolina for an in-depth look at the people and places that make our state great! Compelling stories, stunning high-definition videography, and thoughtful narration take you beneath the surface, providing answers to the hows and whys of all things Our State".
So what the hell were they doing at my house? Here's the scoop:  Way back in 1953, Andy Griffith recorded a monologue for Capitol Records titled "What it WAS, Was Football!"  It was a huge hit, sold 800,000 copies and pretty much put Andy on the map.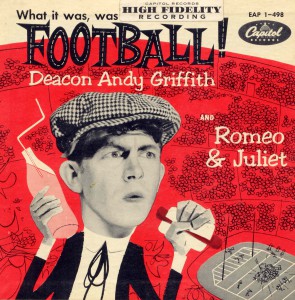 The monologue is a description of a college football game, as seen by a naive country preacher who attends the game by accident and is entirely puzzled by it. It's pretty hokey by today's standards but it still has the power to garner a giggle here and there.  It's still well remembered in NC of course as Andy is something of a saint here.
So, Our State wanted to do a story about the monologue and while producer Morgan Potts was researching it, he discovered that MAD Magazine had actually printed a version of it way back when! The illustrations were done by the great George Woodbridge and they were hilarious. Well, Morgan looked me up and asked if I'd be interested in illustrating the segment or the show and, of course I said "Hell yes!!". I'd have to do it in only 10 illustrations which was going to be tough (Woodbridge got 26!) but it would be interspersed with shots of me drawing to help carry the time. It was really and honor and I was thrilled to update Woodbridge's take on the story.
I decided to do the illustrations in a black and white ink wash over pen to hearken back to the good ol' MAD black and white, ad-less days. and got started. I can't show you much, of course (the show won't be broadcast until next season) but here's a sample: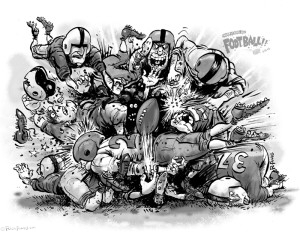 It was really fun and a major challenge. It can really screw with your head after viewing how a different artist approached the story you're about to take a whack at. Especially a guy like George. Well, I sucked it up and went ahead. I know I can't approach Woodbridge's classics but I gave it my best shot in my own style. Drawing a young Andy Griffith was by far the toughest thing about the project. He was one strange-lookin' feller! Drooping eyes, giant eyebrows, lots of lines on his face….thank god he had those Huge ears! They helped out. He's not in the image above, if you're looking!
Well, I was feeling pretty good about getting the gig when Morgan made me feel even better: The segment was going to showcase my studio and myself as well as just the drawings. I was actually getting paid for fantastic self-promotion! I'm still scratching my head. I'm never this lucky!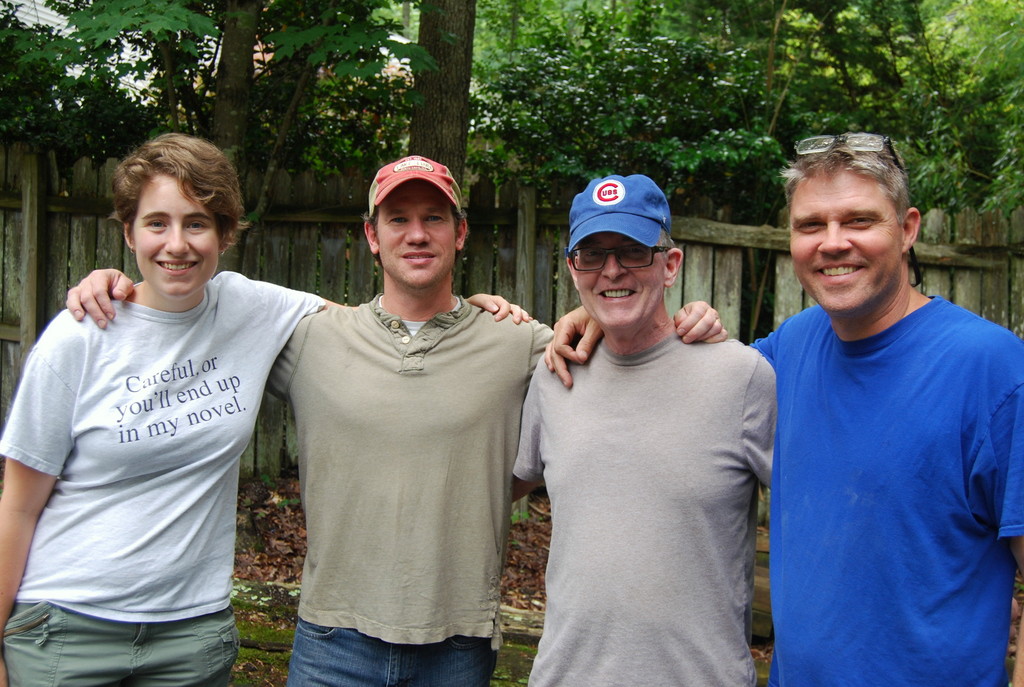 Laura Casteel, Morgan Potts, Mike Burke and Mike Milstead
Monday, the troops arrived. Producer Morgan Potts, Mike Burke (photography), Mike Milstead (grip/best boy) and  Laura Casteel (Associate Producer) tumbled out of the van and into my life. A great group of wonderful folks (Emmy Award winners!!) and even included an ex-Jarhead with Burke. We had a load of laughs. Here's a photo journal:
I'll be sure to post a link when the segment comes out. Thanks UNCTV!!!
Here's the LINK!