The Roots of Dixie Drive
When I moved to  North Carolina about 7 years ago I was working the occasional gig for MAD, MADKids, Crazy Shirts and a bunch of other scattered clients but in the back of my head, there was a constant desire to do gag cartoons. I mean, MAD was cartooning but I wasn't writing the stuff I was illustrating. I'd sent stuff to the New Yorker and had done some greeting cards that were essentially gag cartoons. But my style was just not right for the New Yorker. Having lived in rural areas most of my life my sense of humor was not quite sophisticated enough for what they run there nowadays. My cartoons lean towards to quirky characters you'd find in a truck stop somewhere I guess.
So, when a local friend decided to start a small newspaper, I jumped at the chance to provide her with some cartoons revolving around the new environment I found myself in. Southerner's have so many quirks that they love to laugh at. Sayings, traditions, superstitions…. the place is RICH with material and… the folks down here love to laugh at themselves and their fellow Southerners. It's a wonderful trait. I have coffee with a bunch of wonderful guys every morning at the Gingerbread House and we always get a laugh at the correct way to pronounce certain words, the way to eat certain things or the stuff we did when we were young. They are a fountain of inspiration.
Robin Breedlove started the small newspaper Liberty's News in the little town of Liberty just down the road. It was a perfect spot to try out some cartoons geared towards neighbors. I wanted to have a laugh yet avoid hurting anyone's feelings. Here are the first couple of cartoons I did for Robin: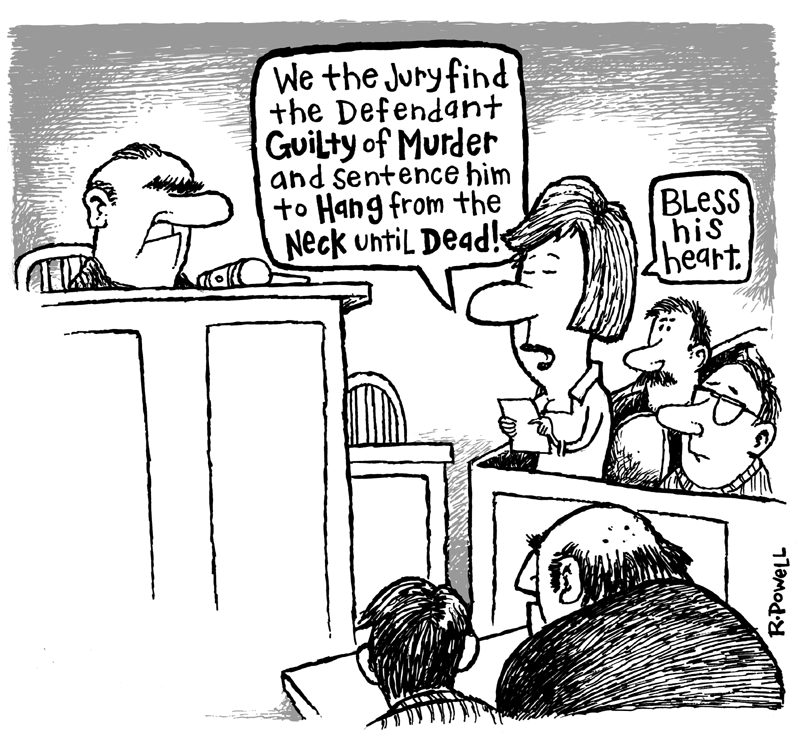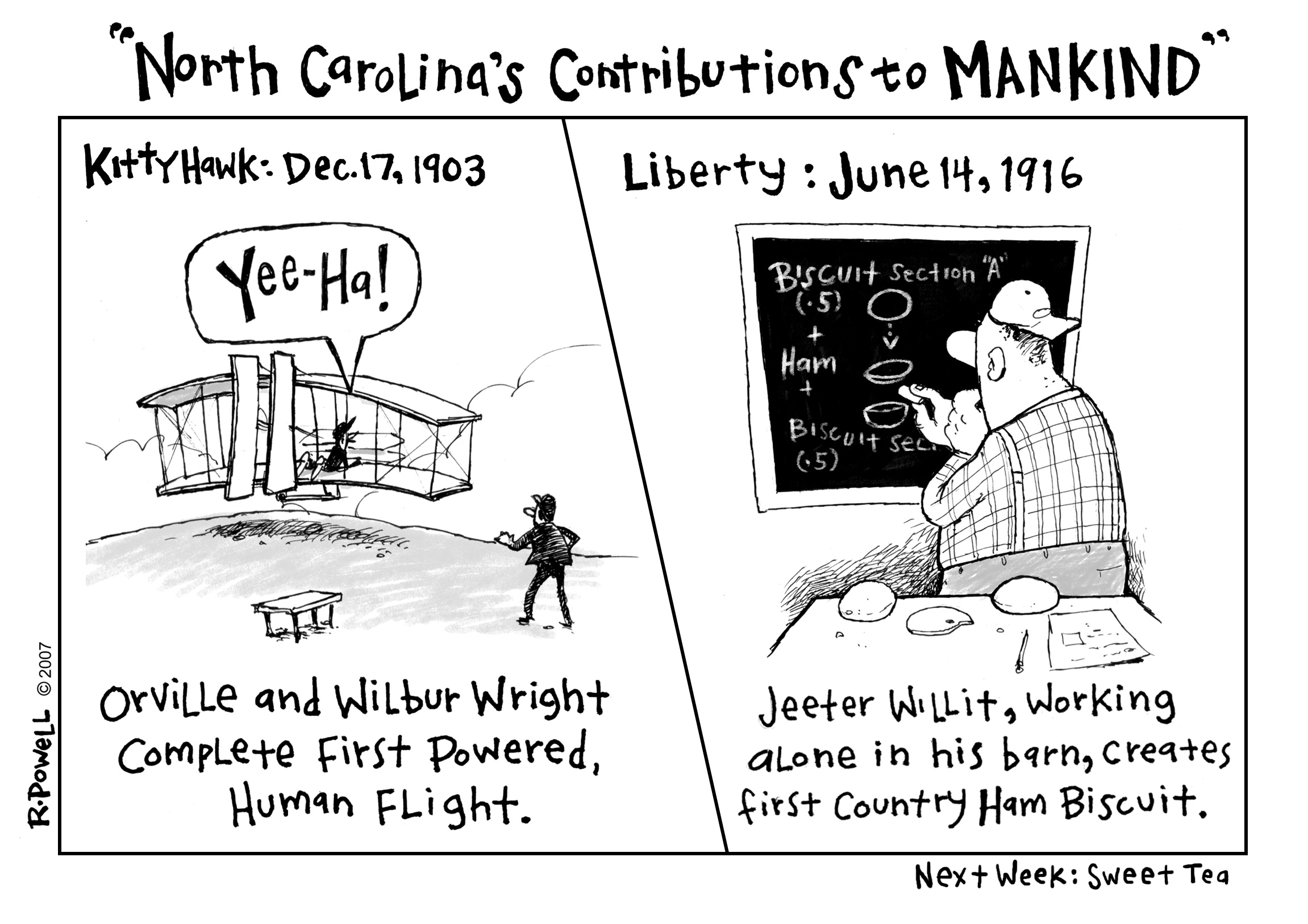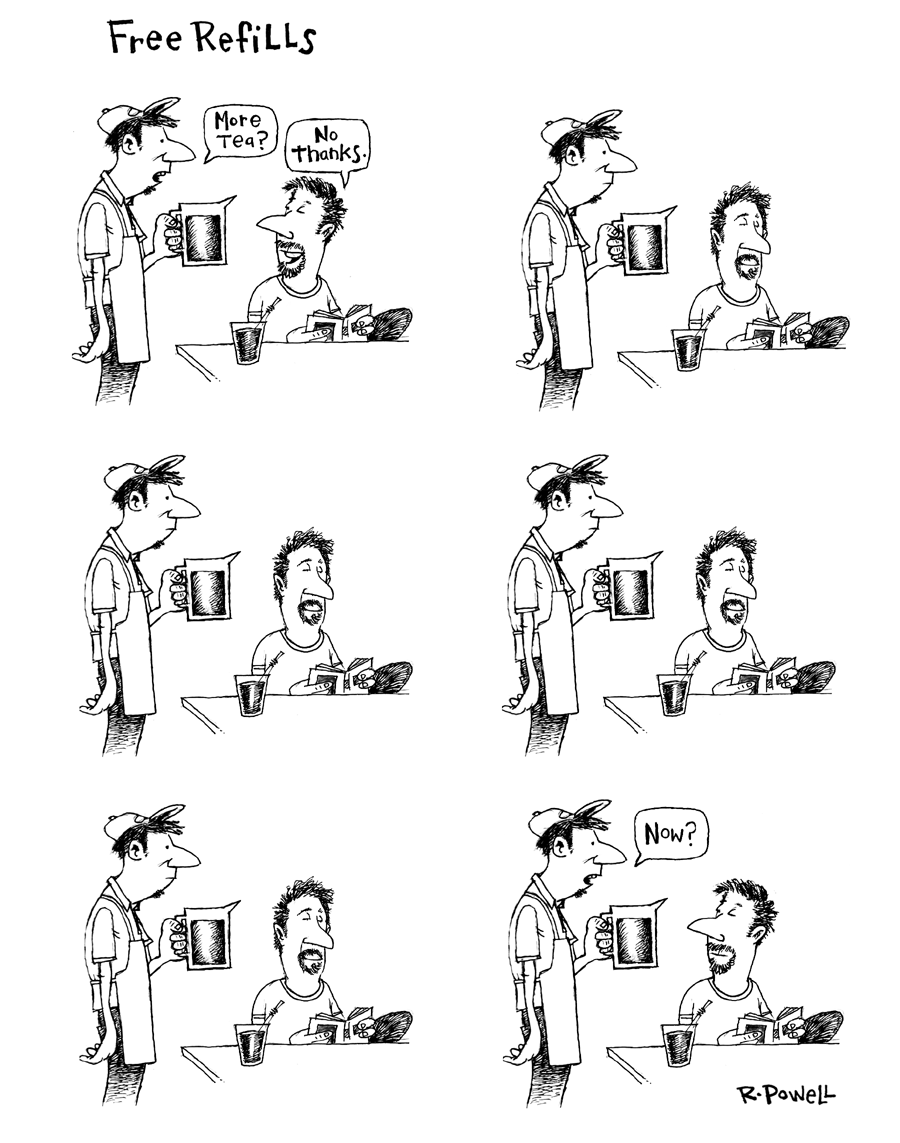 Unfortunately, Liberty's News didn't survive and Robin began her job as an excellent teacher at a local elementary school. I went back to looking for freelance gigs where I could find them. Times were tight and I was in a frantic search for anything that would pay.
When the Courier-Tribune came out with a Thursday insert titled "Get This" I volunteered to do a cartoon for very little pay. I figured that a one-day-a-week cartoon wouldn't kill me and I could keep my chops while testing the waters to see if my sense of humor would get a laugh locally. Luckily, Facebook appeared at about the same time and I was able to get some feedback from folks on each cartoon. Things began to come together and the cartoon was a hit locally so I approached some syndicates!
Universal  Uclick's GoComics was my first choice. I figured on-line was the way to go with the state of Newspapers nowadays…and I still get my instant feedback! In two weeks, I've garnered nearly 1000 subscribers and I'm getting the hang of pumping out five gags a week. I hope you'll check it out and…perhaps subscribe! It's free and you can choose whatever cartoons you like and have them sent directly to your e-mail! If you want to avoid any ads popping up, it's only a buck a month! Check it out HERE