A Magical Relic
If you are not aware of Jim Woodring then do some browsing and you'll be greatly rewarded. He is, arguably one of the top 3 greatest cartoonists of the past 50 years…or more. I hesitate to pigeon-hole him with the classification of simply "cartoonist" because he's much more than that. A visionary artist who has created a world both terrifying and hilarious, a painter and draftsman. His technique is breathtaking.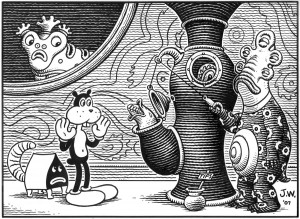 I've admired his work for years, I'm a big fan. So, last year when he asked me to help him get into the National Cartoonist's Society, I felt somewhat disoriented to say the least. You see, to enter the Society you must be recommended by two current members, so I found myself joining the great Bobby London to write letters of recommendation for my hero. Weird, I know.
Because of this honor I've had some very warm correspondence with Jim. He's a funny, generous guy with a big heart. I've found that the greater the cartoonist, the less pompous. Jack Davis and Al Jaffee treated me like a colleague and friend last year in Savannah and Sergio Aragones was a prince of a man. I love being a cartoonist. I do, though, wish I was better at it! So, last week as I was struggling with my inking technique I figured who better to ask than the master himself?
I knew that Jim was a big advocate for the classic dip pen. I have a nice holder given to me by my old friend Travis Leonard but I'm always second guessing my choice of nibs.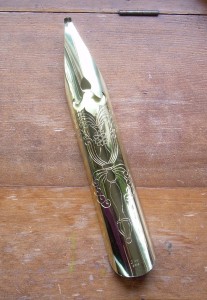 Jim is so into dip pens that he had a massive nib fabricated for him titled "Nibbus Maximus" which he attached to a six-foot holder so he could do huge drawings. Hilarious and cool. He cave a demonstration at a museum in the Seattle area and found that he needed a different, more utilitarian nib so he had another, steel nib fabricated. A perfectionist!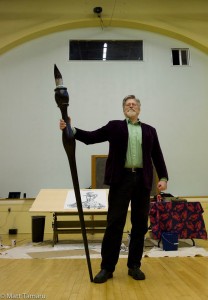 Here's the conquering hero himself. The Don Quixote of Dip Pens.
Putting all of this together, who better to ask about nibs? I was informed by Jim that he used a unique German nib that was hard to find …so he offered to buy some for me, better yet: he'd send me one to try out from his personal stash! What a guy. You can imagine my excitement when the nib arrived the other day. A Viking sword sent straight from Valhalla! I assumed I'd put it into the holder, pass out and wake to a masterpiece scrawled in ink from the mighty instrument! Get a load of the Nib Woodring uses: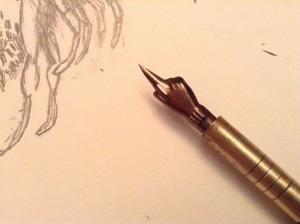 I would expect nothing less. I'll treasure this thing.