Latest MADness
Extra! Extra! Get you a copy!  The latest issue of MAD is out, my friends. #524 hit the stands this week with another mind-blowingly excellent cover by Mark Fredrickson. I also had a good laugh at Tom Richmond and Desmond Devlin's Superman parody and Tom Bunk's Duck Dynasty spread. I think it's one of my favorite issues as of late. I was also pleased to learn that one of the great potters up the road in Seagrove who has shown work at the Smithsonian actually is a subscriber! See? It's a classy rag!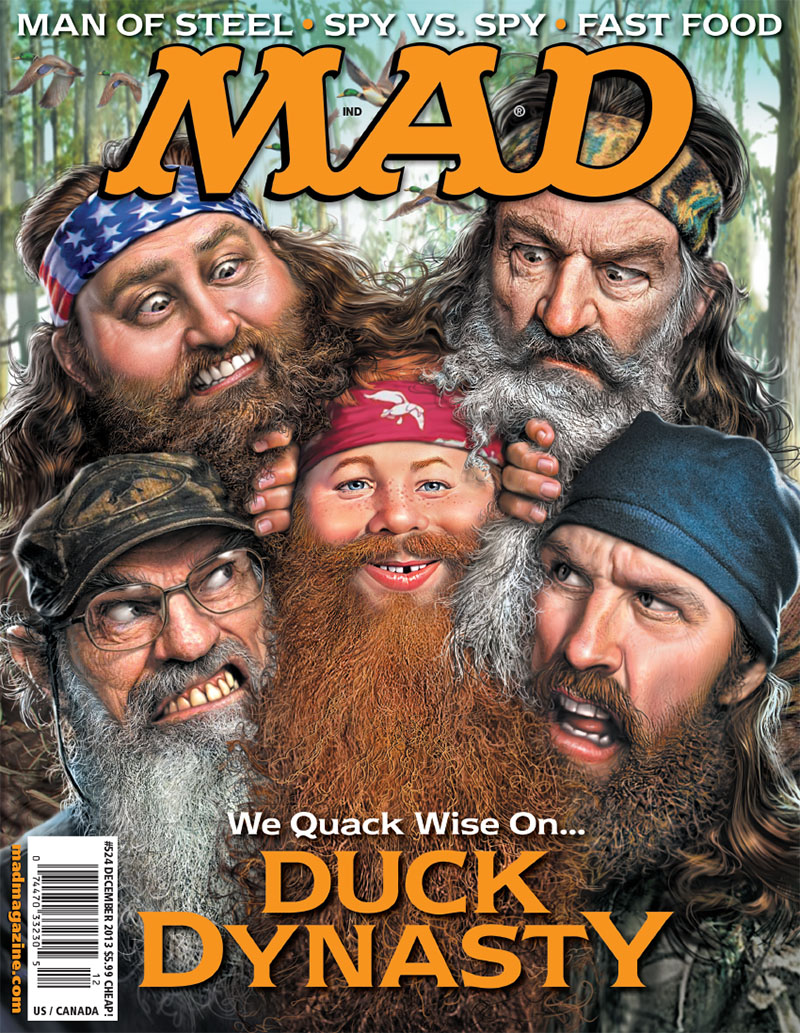 I was enlisted to do a piece for this issue about flying cars…or why we don't have them yet. Kenny Keil wrote the gags and I drew the cars. As usual, when I get an assignment that involves a number of elements thrown around on one page, I lay it all out in a thumbnail and then draw the rest on separate pages so I can put them togethert in Photoshop. This allows me to add detail by working large without ending up with a HUGE illustration board that I have to scan in! The drawback is that I don't end up with a single, original illustration that I can sell. Here's the rough I sent in to Ryan Flanders, the Associate Art Director.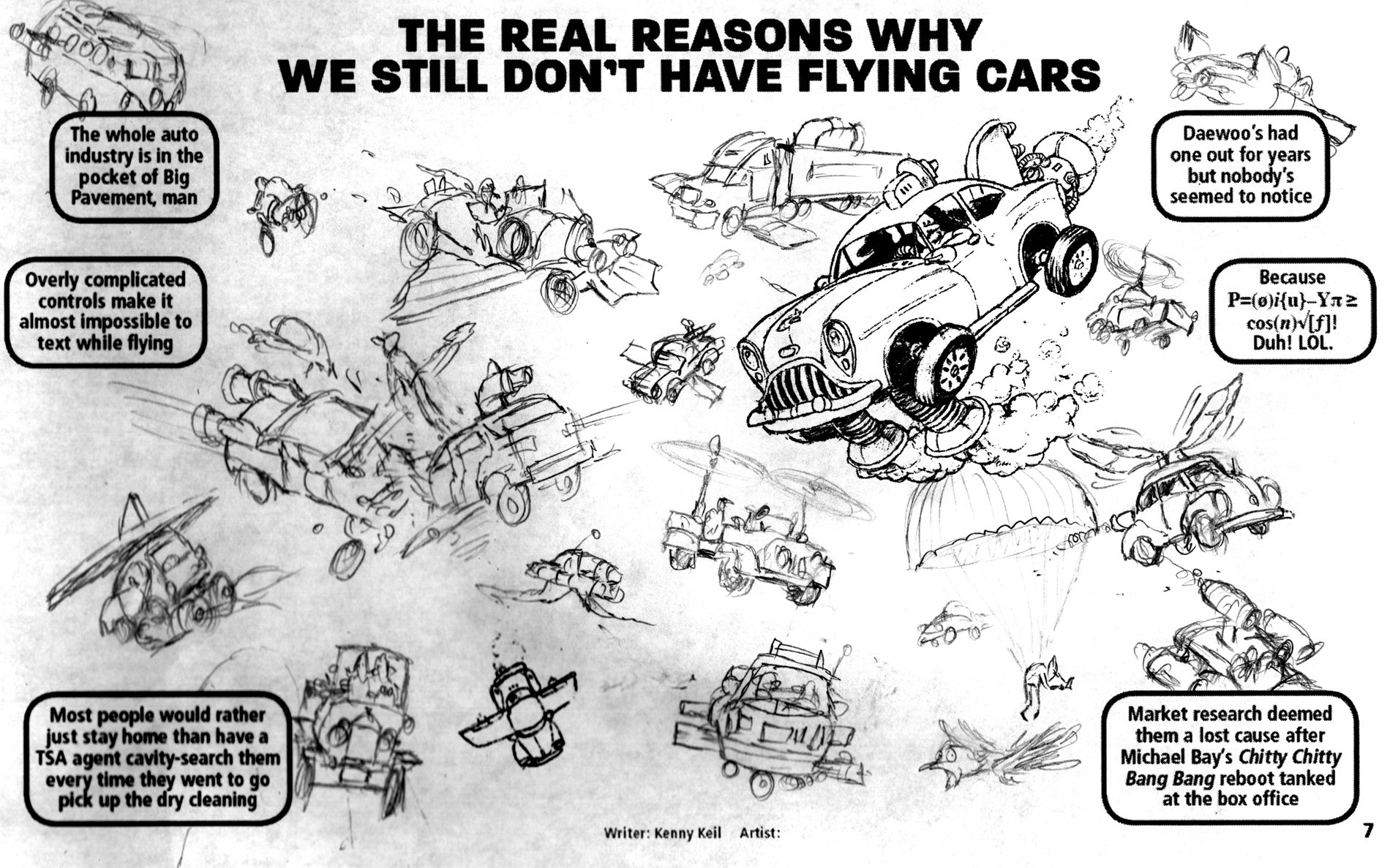 It gave him an initial layout to go by and had one car in pretty tight detail. It was approved and so I went to work drawing the actual elements: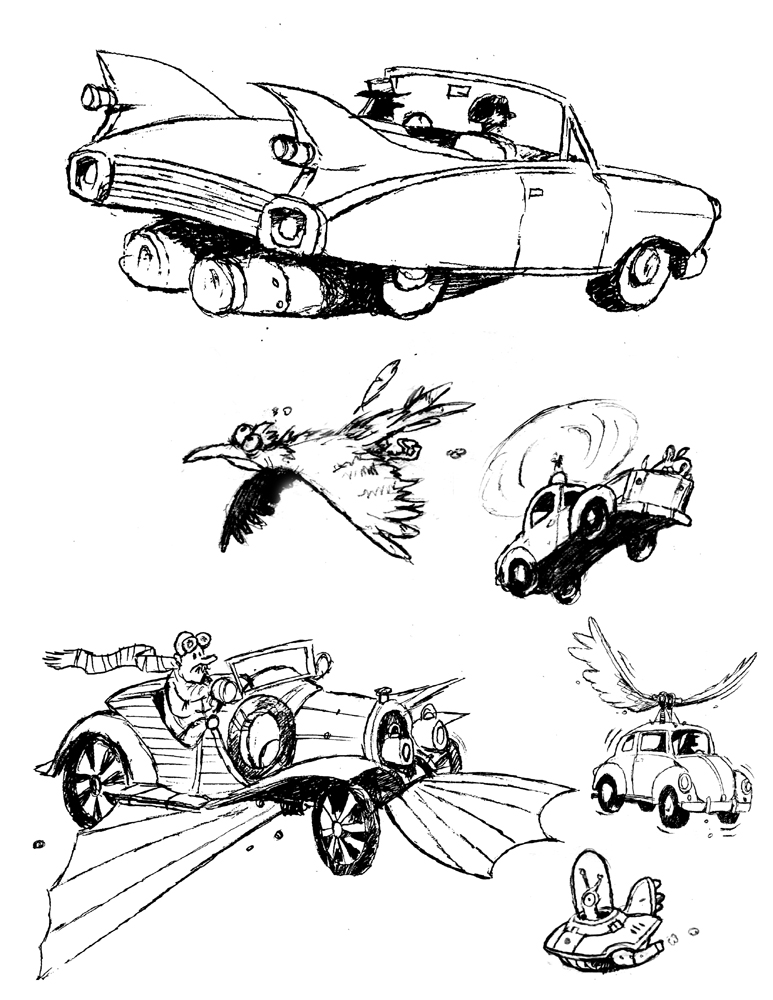 This is all done in pencil, scanned with the contrast pumped up. I was trying to achieve the feel of an older MAD illustration. I keep getting remarks that my style is like Woodbridge when I do this. I'll take that compliment, thank you!
Now, it's time to arrange the cars, re-size them etc..keeping in mind where the words go: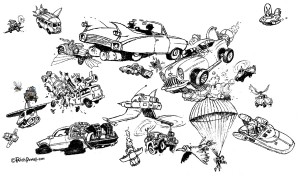 You can see I added some stuff compared to the rough. I showcased one of those old cars with the cool fins (I can actually remember when some of those were still on the road!). I've got a bunch of famous flying cars in here, from the classic Absent Minded Professor (1961) to Star Wars to Back to the Future.
Off to Ryan and …approved! He added that he's like to see something that suggested an environment…or ground. He didn't want them all simply floating in space. I added some buildings with the color layer. Voila!