A Crazy Tale
I'm getting ready to submit some  t-shirt designs for a company called Crazy Shirts. Based in Hawaii, they're one of the top shirt manufacturers  targeted to the tourist market and one of the best, creating good quality shirts dyed in interesting materials such as beer and wine. Maybe a waste of good liquor, I don't know.
Every couple of months, they'll do a design call based on a target market or a launch of a new line and we freelancers will submit our designs and cross our fingers. If your design gets picked, it's 1000.00, if not..zilch. You've just spent many hours tweaking a design for nothing. A gamble, yes…but….I gotta make a buck.
Recently I submitted some work for the launch of they're new RUM dyed line. Typically I'll do some very quick sketches and scan 'em in and send,  just to see if I'm in the ballpark. Here's a look at what I might do at first. The rum designs are scattered among the  sketches for the Dixie Drive cartoon I was working on that week.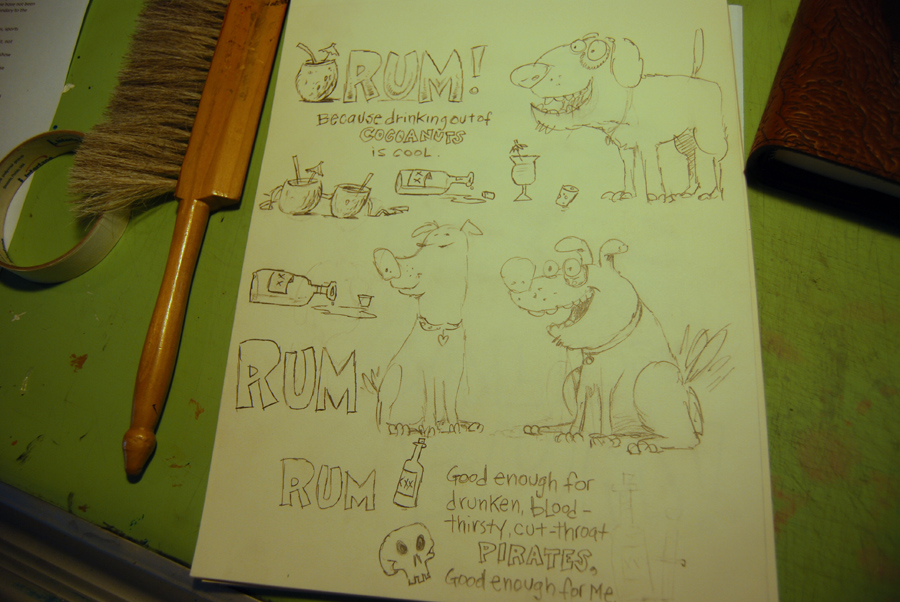 I might pick and choose from the sketches to build a design that makes  sense in Photoshop. I might even decide to spell "coconuts" correctly! On the other hand, I might work out a more finished idea based on something that isn't as cartoony. Here's one I did based on an antique label I'd seen for some old booze company, I added the silly reindeer knowing that each year, Crazy Shirts buys Christmas designs.
The funny thing is, that often Crazy Shirts will pick a design that I've drawn at no more that an inch or two and request very little cleanup for it. They like the "rough" look of my sketches blown up. So there lies the irony. I may think I've got some great idea that I'll spend an hour and a half on and, in the end they'll pick an idea that I spent two minutes on. I'm hoping the whole thing ends up evening itself out, money-wise. 1000.00 for 15 minutes work? What's that come out to per hour??
Here are two other designs I was putting together. I think the Blue Iguana was my favorite of the bunch. "I wanna Iguana!" They love tag-lines like that.
Zombie Hoo-Doo ended up getting scanned in and superimposed over a bottle with spooky, smoky skull elements floating around the thing. Going for the whole Madame Laveau thing.
Beachbum Bobs is something of a rework of a character I'd sent long ago, "Mongo's Surf Hut," that  got shot down.
So, after putting together the ideas, I might add a little color on the second mail-back and the whole thing goes up for review with some marketing panel (yuck!) and they get back to me with changes or rejections. It can be exhausting.
So what did they choose?  Take a look!  Bummer about my Blue Iguana.